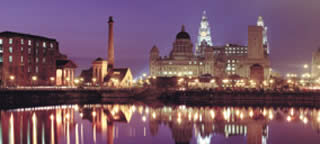 In addition to the major cities such as Manchester and Liverpool which are only 40 minutes drive away, the Park is less than thirty minutes drive from the historic city of Chester.
Even though Chester is a delightful mix of exclusive stores, excellent dining and vibrant nightlife – you can never forget that this modern, exciting city has been shaped by 2,000 years of history. Completely encircled by city walls, Chester's most unique feature is the 13th century 'Rows' – two tiers of enticing shops, running through the main streets. Destinations for history hunters include the beautiful Gothic Cathedral and Britain's largest Roman Amphitheatre, built to entertain 7,000 spectators!
Magnificent in scale and breathtaking in beauty, Chester is a vibrant city combining graceful architecture with exclusive accommodation and shopping.

Delamere Forest, less than five minutes from the Park is Cheshire's largest woodland, both a place for families to let off steam and a place to escape the crowds and find peace in the heart of the forest.
The Forest is also a haven for wildlife including the beautiful Small Tortoiseshell Butterfly, Greater Spotted Woodpecker, White Faced Darter dragonfly, Green Woodpecker, Siskin and Southern Hawker Dragonfly.
For motor racing fans the nearby Oulton Park first established itself as the North West's premier motorsport venue in 1953. The circuit has been extended over the years, and now boasts the unique distinction of having three circuits in one which unusually accommodates spectators mainly within the perimeter of the track, providing unrivalled views of the action.
From April to October the 320 acres of glorious Cheshire countryside plays host to a positively mouth-watering selection of car and bike racing, which includes visits from British Superbikes, British Touring Cars, Formula 3, GTs and the fabulously historic racing cars with the recently revived Gold Cup.
The local area hosts several golf courses and the spectacular Cheshire countryside provides the backdrop to a wide selection of quality golf opportunities. The county has some of the finest courses in the region, which will test the skills and stamina of even the most accomplished players.